We train parents to conduct structured speech therapy activities at home for Autism and Speech Delay. Get personlised guidance, training and parental consultation through online speech therapy (for Malayalam speakers), provided by Sheena Thomas, a government recognised Speech Therapist with 10 years of experience.
Know more about the principles that we use in our therapy:
Our training prepares you to help your child develop their Speech and Language through our individual online guidance. Our therapy is a parent-led home training model (Hanen® based approach), where the therapist acts as a guide who helps the parents at every step.
Who is it for?
Our Personal Parental Training is ideal for pediatric speech and language cases like:
Autism Spectrum Disorders,
Children with severe Speech and Language Development issues,
Children who are attending speech therapy for a long time, but with less progress
Other issues that require, long-term interventions.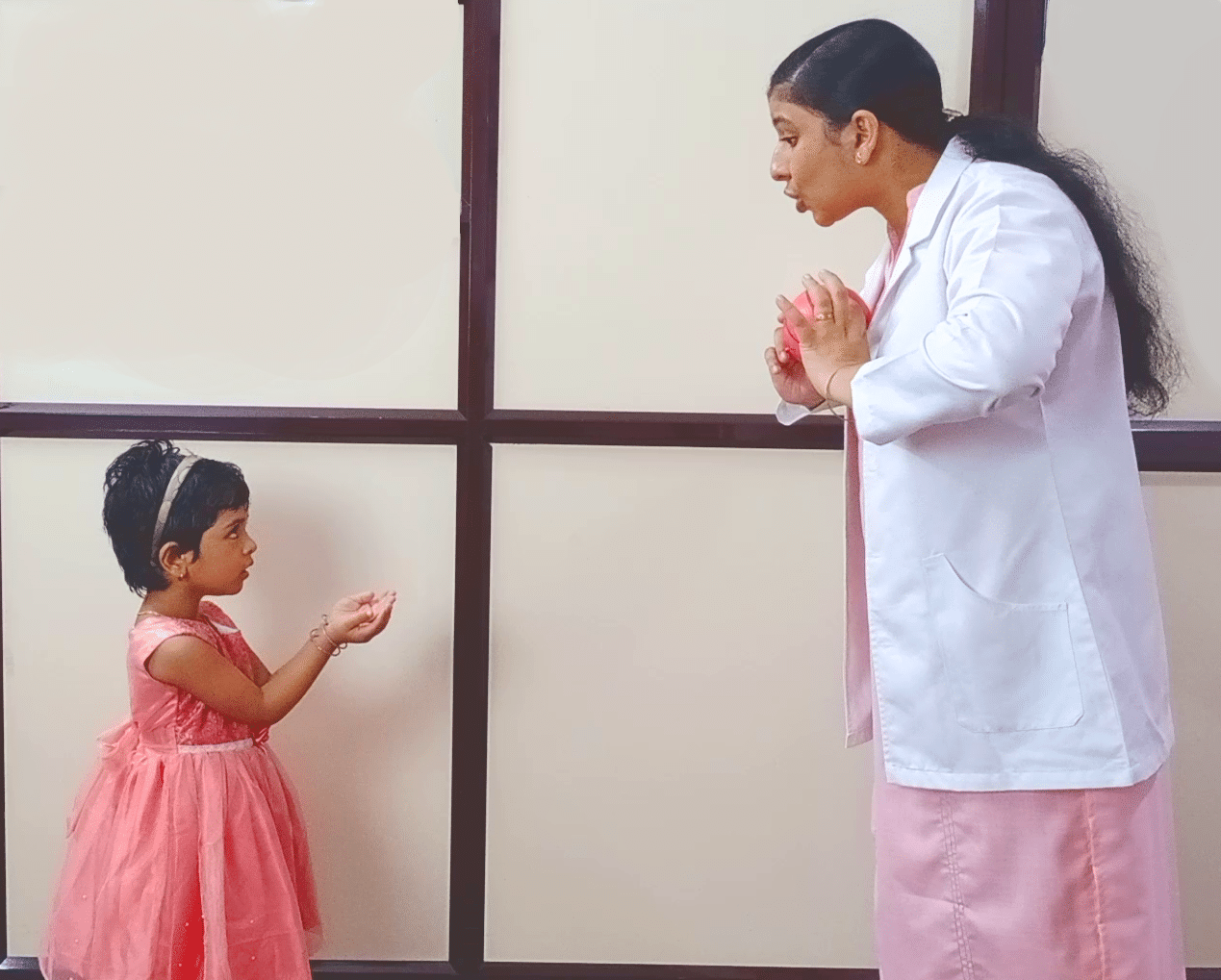 Personal Parental Training
✓ For long term, cases like Autism, Developmental Delay that require regular monitoring and therapy
✓ Cases which had shown very little improvement even after regular therapy.
✓ Parents whose children are recently diagnosed and require guidance and support.
The training is ideal for parents who are ready to get involved in helping their children to improve their lives.
In Sheena Thomas' Online Speech Therapy (Personalised Parental Training), detailed assessments are done through live video conferencing and using standard test materials.
Based on the assessment, parents are given goals and activities regularly. Each goal is explained in detail using videos and live sessions with the therapist.
Parents must ensure that the activities are done by the child, and their responses are noted in a response sheet. The therapist analyses these responses and gives prompt feedback to improve the child's responses.
In addition to your allotted slots, the Parents can always clarify any doubts and concerns through Whatsapp or schedule appointments for live sessions.
Here is what you can expect from our Online Speech Therapy:
Live Speech and Language Assessment using standard test materials like REELS (Receptive and Expressive Emergent Language Scale), (PLS) Preschool Language Scale, ALD (Assessment of Language Development) CARS (Childhood Autism Rating Scale), ISAA (Indian Scale for Assessment of Autism) etc.
A minimum of 2 live sessions per child/month. The actual number of live sessions will depend upon the severity of the child and their ability to each complete task.
For doing every goal and task, the parents will be provided with videos that explain how the task must be done.
Printable downloads of progress monitoring charts, as well as other suitable materials that are needed to complete various tasks.
At every step, the parent will be given clear directions which can be understood by anyone.
We follow a Hanen® based approach with training at home given priority over a therapist led training at the clinic. Here, parents are taught to facilitate communication development in children. We also follow other approaches like Verbal Behavior Approach, Play method, and 'modeling' etc based on the child's individual needs.
Our videos are a mix of Malayalam and English and are easy for all malayali speakers to understand. We hope to start an English language therapy for speakers of other languages soon.
The fee for Personalised Parental Training ranges from ₹3500 to ₹7500 monthly depending upon the intervention required for the child's condition.
"We were initially apprehensive about Online Speech Therapy for my child who has mild autism. However, after enrolling for this, I realised that Sheena's Online Therapy was much better than many therapy centers in Bahrain, where therapist do not give much importance to home training.so far, very much appreciated!…"
Jain, Texas
"… We were lucky to join Sheena Thomas' Online Speech Therapy at an early stage when my son first started showing first signs of Autism. It wasn't easy at first, spending around an hour each day, meticulously doing the exercises, activities and games that Sheena Ma'm had showed us. The initial days were very difficult but after some time, things changed so much thanks to the play method, he enjoys it so much…
---
---