Sheena Thomas (B.A.S.L.P., M.A.S.L.P, RCI Registration no. A24-100) has over ten years' experience helping children with Speech Delay and Autism. She is a pioneer in the field of Online Speech Therapy through her innovative and highly successful Personal Parental Training Programme.
Know more about our speech programme:
Sheena Thomas Detailed Bio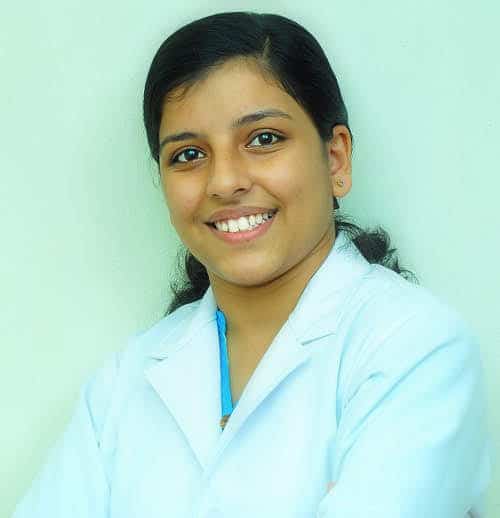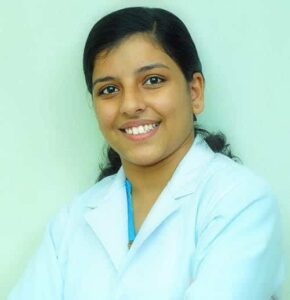 Sheena Thomas (B.A.S.L.P., M.A.S.L.P, RCI Registration no. A24-100) did her Bachelors from Kannur University and later went on to do M.A.S.L.P (Masters in Audiology & Speech Language Pathology) at Kerala University of Health Sciences. After her graduation she became a supervisor and clinical tutor in Speech Language Pathology at Marthoma Institute of Speech & Hearing, Kasargod. Later, after Post Graduation, she took up the post of Chief Speech Language Pathologist at Al-Shifa Multi-specialty Hospital, Perinthalmanna. Next, she joined a private institution in Kochi as a Speech Therapist, before branching out to private practice.
With 10 years experience as Speech Language Pathologist, and a keen understanding of children's communication, her patients have made rapid progress and most of them are able to lead near normal or normal lives.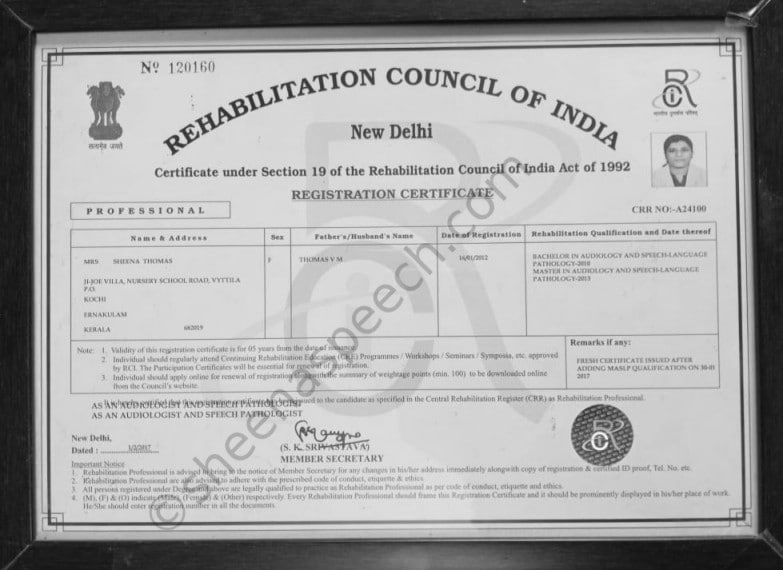 One of the defining features of her therapy is her unending passion and her commitment to find better treatment outcomes for each child. She does not shy away from adopting the latest therapy techniques.
Another feature of her therapy is giving training to the parents. She believes that parents play a pivotal role in the developmental stages of a child. Their proper approach towards their children and their condition can help the child to lead a normal life to a major extent. Currently, she focuses on Online Speech Therapy for Children in Malayalam through Parental Training. She focuses on disorders like Autism and Speech Delay.
As a Hanen Certified Therapist
Hanen based programs place emphasis on empowering the parents of children who have autism and language delay. It is much better than most therapist centered approaches that does not translate to real world interactions outside of the speech therapy center. It Takes Two to Talk® Certification Course for Speech-Language Pathologists is a course that is best suited for Speech Language Pathologist who give importance to empowering parents to develop their child's capabilities.
This course is an evidence-based program and it enables therapists to create a parent coaching framework that uses highly effective responsive-interaction strategies for facilitating the language development of children with speech and language delays.
All our programs for parents utilise the strategies of the Hanen program.
As an Oral-Placement Therapist
Oral Placement Therapy is a part of speech therapy which utilises a combination of: (1) auditory stimulation, (2) visual stimulation and (3) tactile stimulation to the mouth to improve speech clarity. Unlike traditional speech therapy techniques, OPT involves the use of "tactile-proprioceptive techniques" which help children who have motor and/or sensory impairments. OPT is used to improve articulator awareness, placement (dissociation, grading, and direction of movement), stability, and muscle memory. OPT is useful in cases where traditional speech therapy fail to show a good improvement in speech. You can know more about OPT here: https://talktools.com/pages/what-is-opt
Sheena Thomas has also completed both level 1 and level 2 courses that are essential for Oral Placement Therapy.
1) Oral Placement Therapy: Assessment and Program Plan Development and Oral Placement Therapy
This is an introductory course for Speech Language Pathologists for assessing the patients and to develop a plan to treat the patients.
2) A Three Part Treatment Plan for oral Placement Therapy
This is an advanced level course aimed at preparing a treatment plan for clients with speech issues.
With 10 years of experience, Sheena Thomas Speech Therapist has learnt one thing: that a dedicated parent is the most essential requirement for a child to speak. Nothing else matters as much as a mother who is willing to go to extremes just so as to hear her child speak. The number of hours that a child spends in a therapy center, the amount of money that the parents cough up, none of that matters here.
If you are that dedicated parent who is willing to set forth time and effort for your child, then welcome. We focus on Autism and Speech Delay and currently we conduct in Online Speech Therapy in Malayalam for children. Our main programme is the Personal Parental Training where we train parents to conduct Speech Therapy activities at home.
Before contacting us, we advise you to visit our three principles page, which talks about our core principles and the way we do therapy.
---
---
Copy the link to this page to share with people who may need this:
---